Render Cleaning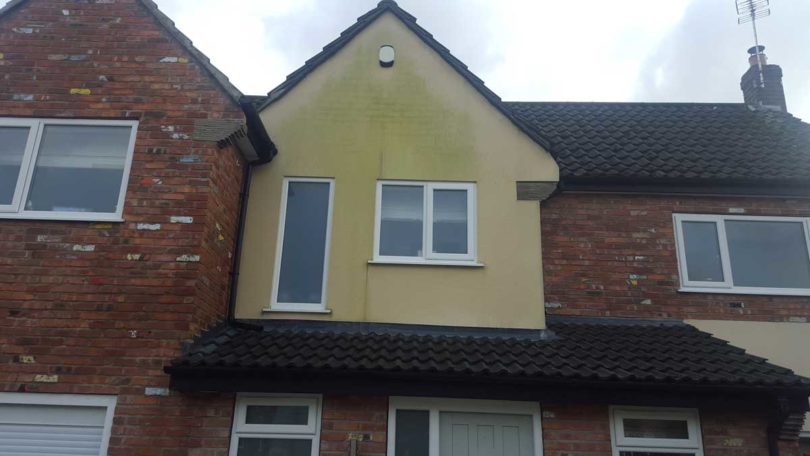 Soft Washing – Render Cleaning
Render cleaning via softwash lets you restore your property to looking brand new and protects your property against any damaging dirt and grime.
Render cleaning process
Our team of soft washing experts are specialists and have years of experience, leaving you 100% satisfied.
First off we sanitise the render with specialist products to begin the cleaning process which break down moulds therefore allowing a more eco-friendly clean.
We then clean the render thoroughly with the latest equipment. Using this process ensures a thorough removal of all Organic Build up and also prevents fast regrowth of moulds and lichens due to our knowledge of safely cleaning render.
Why choose us
Trained experts with professional experience

Cost-effective solutions and trusted brand

Eco-friendly and safe process
All types of render covered
Different brands of render require different treatments, Inexperienced contractors can often neglect this fact causing costly damage.
Our team of experts can identify your render and match it with the right cleaning process to ensure there is no damage is caused to your building's exterior, saving you a costly repair bill.
Add value
If you're in the process of selling your house or putting it on the rental market then render cleaning can prove a wise investment.
First impressions count, and any potential purchaser could easily be put off by dirty render.
If you choose our render cleaning service we'll bring your house back to brand new. This could mean you meet your asking price or let your property, making it money well spent.
Eco-friendly
Our process incorporates  a combination of soft washing and pressure washing techniques to give you and optimal results, most importantly carried out safely.
Soft washing uses less water than pressure washing, however the two go hand in hand to give the best results. Once the cleaning solutions have dried they are safe for children, pets and the environment.
Get a quote to clean your render today and see how we can help you click here